Cleaner, standardized data for your platform
Certification schemes, sourcing platforms and traceability tools are all making use of Open Supply Hub and its free and universal ID, the OS ID. Enjoy access to a standardized set of supply chain data that gives a greater understanding of the ecosystem of organizations connected to production facilities.
Why add your data to Open Supply Hub?
A clean base dataset to build from + universal IDs: Save time and money by automatically cleaning facility names and addresses against OS IDs.
Interoperability: Make data-sharing easier for your clients. Brands, companies and factories are all choosing from an ever-growing suite of service providers. Make it easy for them to connect their data across systems with one universal ID.
Show your commitment to supply chain collaboration: Demonstrate your stake in a more open and collaborative data ecosystem.
Visibility for your organization: Thousands of users interact with our platform each month (and the number is steadily rising). Listing your data is a great way to bring visibility to your work.
Join Fair Factories Clearinghouse, Fair Trade USA, Find Sourcing, Higg, International Accord Foundation, and many other auditors, certification schemes and service providers in sharing data on OS Hub.

Open Supply Hub allows for the easy identification of production facilities through the use of the OS ID and supports collaboration with brands, facilities and other organizations, which is crucial for us all.
- Alisia Mätz, Product Manager OEKO-TEX® STeP
There are two ways to add data to Open Supply Hub:
1. The OS Hub API

Have a database that you want to automatically integrate with OS Hub?
2. Upload via CSV or Excel File
Follow these step-by-step guides to prepare, upload and make the most of your data on OS Hub.
TIP: Want to divide up your lists?
Open Supply Hub allows users to upload multiple lists in your account.
This can be useful if you are looking to separate facilities into groups, such as a different list for each of your certification programs.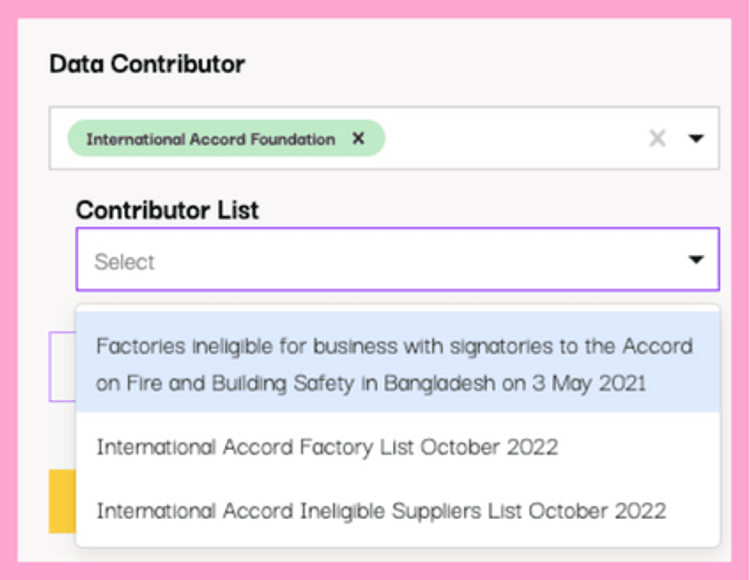 Have questions?
First, check out our FAQs page - we may have already answered your question! If you can't find what you need there, please reach out to info@opensupplyhub.org and we are happy to assist you.