Looking to display your supplier list on your website as a customized map? Open Supply Hub offers an easy-to-use embedded map for your website so that users can easily interact with your data, but you don't have to go through the process of designing, building and maintaining a map yourself.
2023 Food & Beverage Open Data Challenge
Do you work in the food & beverage sector? Join us in building and opening up the largest cross-commodity supply chain database available. Share your data in OS Hub by the end of the year to meet our 2023 Challenge. Register for this webinar to get started.

How it Works
By subscribing to this feature, you'll be able to simply upload your data to OS Hub and automate pulling just your organization's data into a supplier map on your website. You can even include additional data points not hosted on OS Hub, such as gender break-downs of workers at facilities, organization-specific programs, and more.
Click the links below to see live examples of the OS Hub Embedded Maps on the following websites:
Embed: Brooks Sports, Hylo Athletics, prAna, Reformation, Veshin, Zalora
Embed+: Etam, KMD Brands, Sunrock, Ted Baker
Embed Deluxe: ASOS, Columbia Sportswear, Fair Trade Certified, HEMA, Partnership for Sustainable Textiles
Use an OS Hub Embedded Map to:
Save money and time: eliminate the need to build a custom supplier map for your website from scratch. The intuitive management interface means that your data can be refreshed with minimal to no involvement from your IT team (dependent on your company's site access and management permissions).

Customize the data you want to display and how it looks: build a map that fits your needs. List any data points included in OS Hub, as well as optional custom data points of your choosing, while also customizing map colors and fonts to match your brand.

Streamline future data updates: refreshing your supply chain data on OS Hub will automatically update the information in your map, so you only have to keep data updated in one place.

Fulfill industry requirements and demonstrate your commitment to transparency: join the growing movement for open data and transparency in supply chains. Whether you are satisfying the specific requirements of initiatives like the Transparency Pledge or Fashion Transparency Index, or are looking to provide more clarity to your audience in general, hosting a supply chain map on your website is a simple, visual way to share your supply chain data, while still making it available in a machine-readable format through the OS Hub CSV/Excel file download functionality.
Pricing:
There are a range of embedded map pricing packages to meet your needs (prices are in US dollars).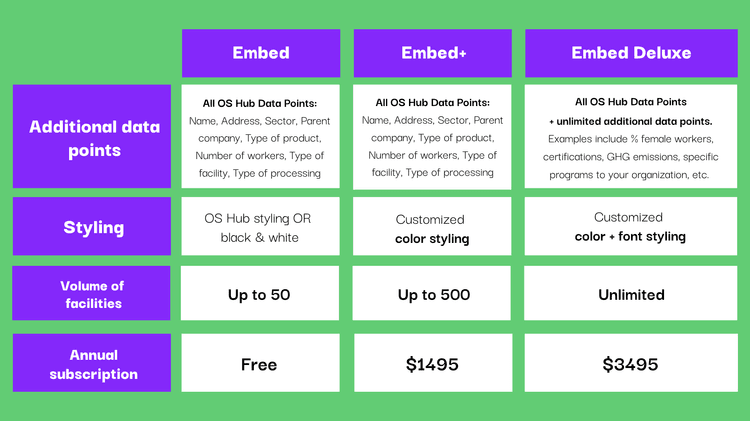 Get Started:
If you would like to sign up for one of the above Embedded Map packages, please complete the following steps:
Once you've completed the sign up process, it's fast and easy to configure your map. Read the FAQs below for specific instructions.
Frequently Asked Questions
Setting Up:
1. Upload spreadsheet(s) of your supplier data (including any additional data points you would like to display on your embedded map) to OS Hub. You'll need to register for an account, if you have not already done so. If you have an API integration, your embedded map data will automatically pull from there.
2. Navigate to your OS Hub Settings menu and then select Embed.
3. In the Embed tab of your OS Hub Settings, customize your map's data points, branding, and size (you'll be able to see a map preview as you work).
4. Copy the automatically generated code, containing your embedded map settings, and add the code to your website.
Maintenance:
1. Update your data in OS Hub and see the updates on your embedded map. Note: all changes are made in OS Hub. There is no option for editing the data directly in the embedded map.
2. As needed, adjust the data fields, branding, and size of your map in the OS Hub Embed Settings to generate updated code to add to your site.
An OS Hub Embedded Map is added to your site as a raw iframe tag, so your website must be using a CMS that supports adding raw iframe tags (most do!).

Here are a couple of items for your tech team to consider:
The Embedded Map is added to your site as a raw iframe tag, so your website must be using a CMS that supports adding raw iframe tags in order to use the Embedded Map.

One of the configurable settings for the Embedded Map is the map size. You can choose a specific pixel height and width, or you can set the width to 100%, which will automatically take up the full width of your page, and then you can choose the corresponding height. If you select 100% width, you will not have additional padding on the sides of your Embedded Map, which could affect the user experience while scrolling on the page. We recommend thoroughly testing on multiple devices and screen sizes if using the 100% width feature.
All active, public lists associated with your Data Contributor account on OS Hub will be pulled into your Embedded Map. If you have one active, public list, it will use that. If you have multiple active, public lists, it will pull all of them and users will be able to filter by list on the map itself.
The answer to this question will depend on the Embedded Map package that you choose. All Embedded Map packages allow you to add any data points available in Open Supply Hub. Embed Deluxe includes those fields and unlimited additional data points. Those data points could include (but are not limited to):
- % female workers
- Tier
- % migrant workers
- Unionization / worker representation at facility
- % capacity utilization
- Length of relationship with facility
- Responsible sourcing / audit results
- Social / environmental improvement program
- Water use
- GHG emissions

We won't put an exact number on it, as every organization and person is different, but once you have adjusted your embedded map data and settings to your requirements, adding it to your website is as simple as copying and pasting the code for the embedded map onto the back-end of your website.
It depends. Changes to your data fields or styling will not require a code update, as that data is stored in the OS Hub database, rather than in the code itself. Changes to the size of your map will require copying your updated Embed code to your website. Should you wish to adjust your Embed size settings after you've set up your map, you will need to make those adjustments in the Embed tab of OS Hub, copy your new Embed code, and then replace your old code on your website.

No. The Embedded Map will not display additional contributor information for your facilities. If users wish to view this information, they will need to visit Open Supply Hub directly.
Nope! While the facility profile on OS Hub includes links to claim a facility or to suggest a data edit, those links are not included on the embedded map version. People will be able to search and view your facilities on the Embedded Map, but they will not be able to contribute suggestions or data that you need to review.
Because of the way the Embedded Map is designed, it is essentially loading a new page inside your current website. This means it is not actually loading any content directly into your website that could disrupt the surrounding page or other pages. From a technical perspective, OS Hub cannot see any data or content on the surrounding page.
The content on your Embedded Map is being pulled directly from the data that has been contributed through your profile on Open Supply Hub. You are able to update that data yourself as often as you wish - including removing facilities you are no longer working with.

If you have any additional questions or would like to set up a live demo, please don't hesitate to reach out.